Out and About… The Tiger Who Came to Tea
A new exhibition explores the life and celebrates the work of one of Britain's best known author–illustrators for children, Judith Kerr.
Celebrating the 50th anniversary of the much-loved classic The Tiger Who Came to Tea, the exhibition, originated by Seven Stories – the National Centre for Children's Books, features high quality copies of Judith Kerr's original illustrations from the Seven Stories collection and promises to bring this delightful book to life for a new generation of family audiences.
The exhibition gives a unique insight into Judith's life and work, including access to childhood drawings where we discover how Judith developed into the artist and storyteller we know today. Visitors can also watch a short film, featuring children from Christ Church C of E Primary School in Newcastle upon Tyne. They have investigated why the issues of conflict and displacement are as relevant today as in the 1930s, including interviews and footage of Judith at work in her studio at home.
Among the most remarkable treasures in Judith's archive, held by Seven Stories, is a sequence of childhood drawings. These fragile images depict scenes of a happy, ordinary, life seen through the eyes of a young girl (with a precocious talent for drawing!). Coupled with Judith's autobiographical writings, these give a unique insight into her life at that time, and show how – despite all the difficulties – her talent for writing and illustrating grew and grew.
See the fantastic artwork, hug the friendly giant tiger, enjoy tiger-themed tea in our cafe and take part in fun arts and crafts activties.
Craft activities will be available on selected days. Pop into the museum and book your craft activity at the welcome desk, before they sell out!
Tues 3rd August – Make a moving 3D tiger card, £2.50
Tues 10th August – Tiger hand prints, free
Tues 17th August – Cardboard tiger models, £2.50
Tues 24th August – Paper bag tiger puppets, free
The Tiger who came to Tea Exhibition, until 4th September 2021.
Open Tuesday to Saturday, 10.30am – 4.30pm and Sunday 11am – 3pm.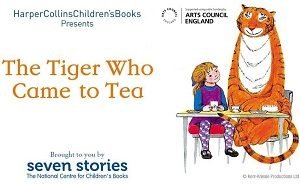 North Hertfordshire Museum, Brand Street, Hitchin, SG5 IJE.
Admission is free. Fully accessible.
Book your Tiger Tea via our tickets page at www.north-herts-museum.arttickets.org.uk