Cam Sight is a Cambridgeshire charity that supports local people of all ages living with low vision and blindness to live the lives they choose. We work to enhance independence, improve well-being, and improve inclusion.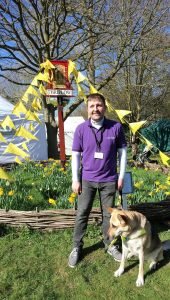 Cam Sight supports 1,900 people living with low vision and blindness, we offer a wide range of services to our clients, these include.
Emotional Support
We offer counselling and emotional support either one to one or in a group.
Peer Support Groups
We run monthly groups across Cambridgeshire for children and adults, their carers and family members. Providing an opportunity to meet with others and share experiences.
Low Vision and Blindness Centres
We demonstrate equipment and offer advice on magnifiers, phones and technology.
Community Support
We provide practical support, this includes advice on concessionary schemes and available benefits. We also offer a programme of daily living skills including cookery groups.
Sports and Leisure
We support individuals in pursuing activities. These include tandem cycling, swimming, ten pin bowling and visits to local attractions.
Volunteers
Volunteers provide support and companionship to people in many different ways including befriending, assisting with transport and reading. Our volunteers are trained in visual awareness and sighted guiding, and have been through our recruitment process and security checks.
Fundraising
We organise many events throughout the year, from Dining in the Dark to our annual quiz to guest lectures. They are a great opportunity to bring together family, friends, and colleagues for a special event while raising much needed funds for a local charity.
www.camsight.org.uk/pages/events/category/fundraising-events
Whether you're planning on organising a fundraising Bake Off competition with colleagues or planning to run a marathon, Cam Sight can help you promote your fundraiser through our social media channels and provide you with a fundraising pack to help you get the most out of your fundraising efforts. Remember, if you are doing a fundraiser at work, make sure you talk to your employer to see if they would be willing to match your fundraising efforts.
For any fundraising enquiries please contact Nick via email: nick@camsight.org.uk or call 01223 420033 ext.29.
Get in touch at info@camsight.org.uk
www.camsight.org.uk / 01223 420033
167 Green End Road
Cambridge
CB4 1RW