A straw poll of residents in Royston High Street one grey Monday morning found a broad acceptance of CCTV cameras in public places. "If you've nothing to hide, why would you worry?" was a typical response, and others were reassured and felt safer. I was standing under one of the CCTV cameras in 11 locations around the town centre and it was surprising how many respondents were unaware of the camera 20 feet above their heads!
"A necessary evil" was one of the strongest views, and criticism was aimed at the particular use of the cameras, rather than their presence. One man said they should be used against illegally parked cars; that he'd seen fire engines prevented from getting to the High Street for 20 minutes by cars on a street corner.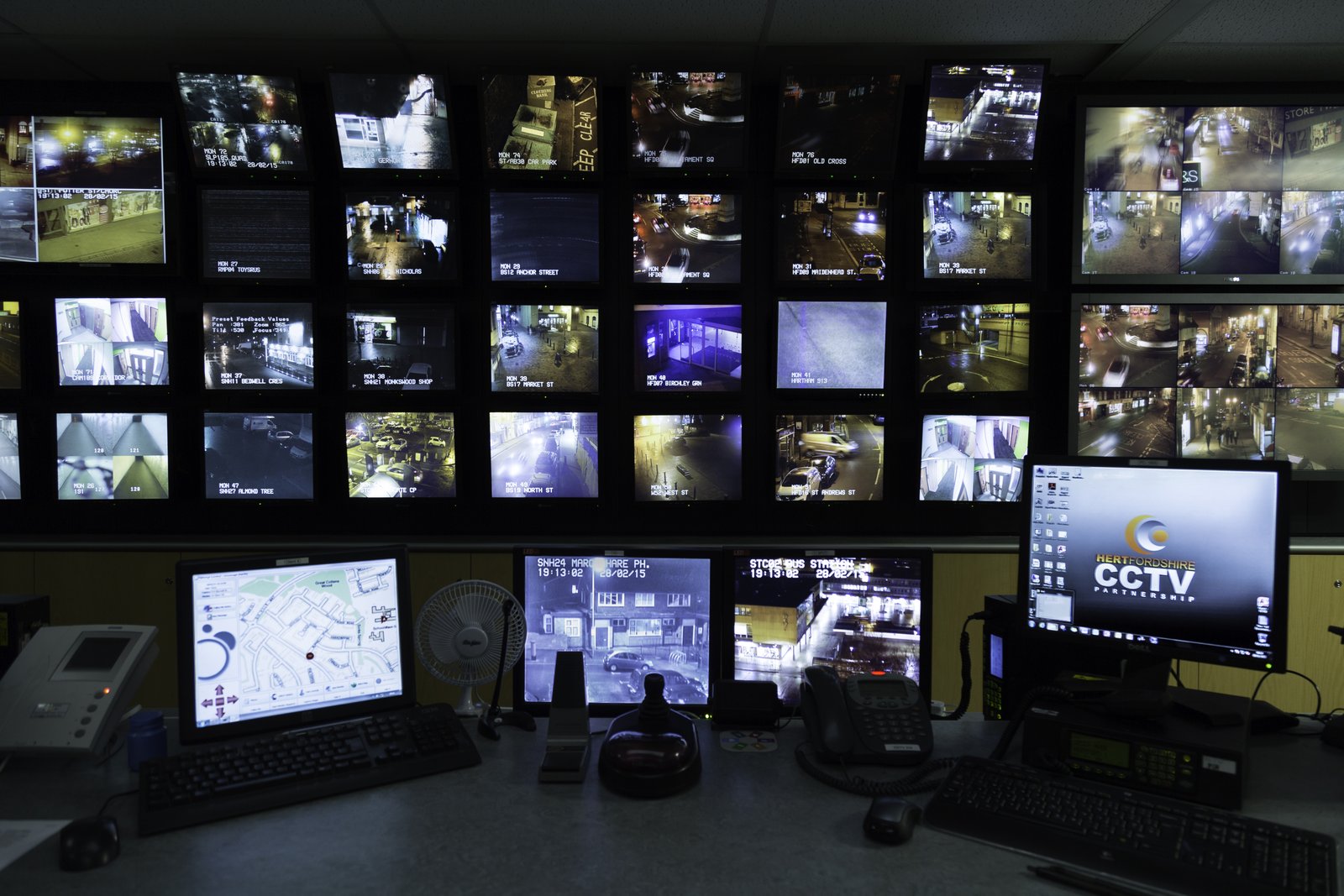 In theory, the benefits of installing cameras include public reassurance – to make us feel safer; crime prevention – to act as a deterrent to would-be criminals; crime investigation – using camera evidence to solve crimes and, in some cases, clear up other disputes. My interest was in cameras in public spaces rather than others located in or near businesses and homes – much greater in number, but unregulated. Nor did I consider the many cameras around the railway station controlled by the British Transport Police.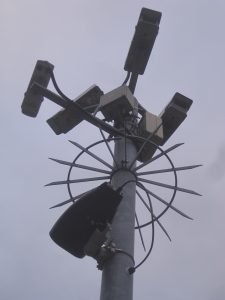 To find out more about the use of CCTV cameras in public places around Royston and to assess their impact (or, from the point of view of taxpayers, their cost-effectiveness) I interviewed Mike Read, Operations Manager with the Hertfordshire CCTV Partnership. Mike is commissioned by a number of district councils – including North Herts – to operate and maintain cameras in public places, working with the police, who may also request mobile cameras if 'hotspots' are identified.  Mike Read explains the overall situation.
"We have a control room that looks after just under 700 cameras across Hertfordshire, with three fulltime operators 24/7, one of whom is dedicated to surveillance in North Herts. North Herts and Stevenage Councils came on board with the Partnership around 17 years ago, in the aftermath of the James Bulger case [the abduction and murder of a child from a shopping centre]. We have strict codes of practice around the use of all cameras we use for reducing and detecting crime. Our data is kept for 28 days and if the police come to us about an incident we'll try to help."
Based on my High Street straw poll, the general public seem to be reassured by the presence of cameras in Royston town centre, and don't feel they're intrusive. To quote one of my interviewees "For me, as a woman, it makes me feel safer. Younger people might feel a bit uneasy about being watched on cameras, but I'm not bothered about it. I'm reassured by the cameras – that's important to me."   
In terms of crime prevention, it's incredibly difficult to prove that something didn't happen because cameras were there. Mike Read agrees "It's not easy [to prove], but there are a number of control rooms that councils have closed, for example in Blackpool, that have been re-opened a couple of months later." Even if it could be proven a crime was prevented in Royston, it might simply have been diverted elsewhere; good for Royston but not for overall crime reduction.
It's in the field of criminal and public order investigations – gathering evidence to clarify who did what, and when – that the cameras seem to be most effective. But Mike Read stresses they are just one tool for fighting crime. "It's important to understand that we don't publicly stand up and say that it was us who detected a particular crime – the feed goes to the police. [The control room in Stevenage is directly linked to the Police Headquarters Central Control Room in Welwyn Garden City]. We also listen to the police airwaves, and we work with the Pubwatch and Shopwatch schemes. If we hear of an incident, straight away the operator is on to the appropriate cameras and looking – whether it's a missing person, anti-social behaviour, or a fight on a Friday night."
A consultation of publicly available crime statistics, and other documentation, confirms that Royston is a safe place to be – most of the incidents recorded on camera and investigated relate to anti-social behaviour, particularly around pub closing time in the town centre. Cameras have also been used for getting help to people in distress – a woman being physically abused by her partner and an elderly man having a fall being two examples, both filmed in Fish Hill.
Many may remember the infamous 'ring of steel' around Royston – with seven cameras automatically recording the number plates of vehicles entering and leaving Royston. It hit the headlines in 2013/14 when judged to be illegal for infringing data protection laws but, unprompted, one of my interviewees voiced his support "I think the 'ring of steel' was a great idea – having cameras on every road is a deterrent against crime."
Mike Read shares a lesser known use of cameras to benefit the public. "99% of private requests for footage are in car parks where a car has been damaged. That footage would be provided as a free service, but we try to go through solicitors or other third parties because there may be other people's data on the footage (and pixilation is costly)."
I conclude that the overall question about whether CCTV cameras are 'cost-effective' is almost impossible to answer, not least because it's so difficult to put a price on the public's peace of mind. The debate is well summed up in this comment from one of those High Street commentators. "I think opposition is personal rights gone mad – I don't see why anyone should be upset if they're just getting on with their daily business. But having cameras can be overkill in a place like this – there probably isn't much crime here – it would be interesting to see how many crimes a year are solved through having CCTV. Cameras make me feel safer and criminals must be aware of the cameras so that's good."
For further information about the Hertfordshire CCTV Camera Partnership, go to  https://www.hertfordshirecctv.co.uk