Therfield Heath Conservation – Pasque Flowers
Written by Astrid Matthews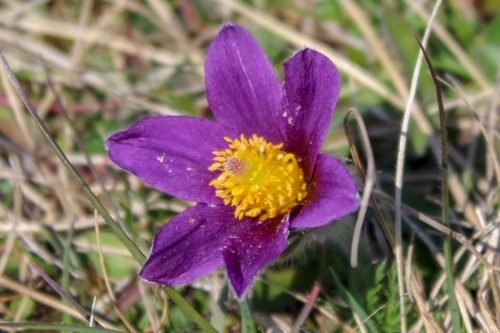 Now that spring is upon us, let's take a look at one of the new species of flora that you may spot reappearing at the Heath.
Pasqueflowers, pulsatilla vulgaris, are a rare wildflower that bloom around Easter time on Therfield Heath. It is an incredibly rare species, with 99% of all remaining flowers found at just 5 sites in the whole of the UK! Our Heath being one of those sites, has an impressive display of 60,000 Pasqueflowers, making it a Site of Special Scientific Interest. This means the area is protected due to its formal conservation status. We will be looking to monitor the population and we will be looking for volunteers to help with the count!
Since 2002, the Pasqueflower has been recognised as the shared county flower of Hertfordshire and Cambridgeshire. It is native to the UK and blooms from March to April on the south facing side of Church Hill. Here, the conditions are perfect; full sun and a shallow layer of turf covering well-drained chalk, results in a large colony of purple and yellow, short-stemmed flowers. Also known as Dane's blood, legend has it that these flowers grow from the blood of fallen Vikings. Whatever their history, they really are something special.
These vibrant flowers draw many nature enthusiasts in from afar and are a must see for anyone living in the area. If you're lucky enough to visit at exactly the right time, please be careful where you tread!
The Listing magazine allows us to connect with everyone in the area on a monthly basis. We encourage those readers to also use our website and Facebook as a great way to access instant messages.
Please search "Therfield Heath & Greens" and this will take you to our website and also our Facebook page. Please join us and keep up to date on what is happening and help us celebrate this unique site which is still free to access all year round.