Until the mid-1950s, Reed Village Green was still being used to grow potatoes, and had been since the war-time "Digging for Victory" campaign.
Then, once budding cricketers decided to form a team, the Green was levelled, equipment acquired, fixtures arranged and, from then on, the Club has grown from strength-to-strength.
Initially playing "friendlies" against clubs from the surrounding area, Reed now has three senior teams playing on Saturdays in the Saracens Hertfordshire Premier Cricket League with its First team at Championship level. A Saturday fourth team plays friendlies as does a Sunday recreational team and this is often when players from the Colts' section get their first experiences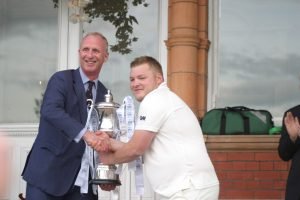 of Open-Age matches and the longer version of the game.
Also, on Sundays the 1st XI compete in the National Village Cup (NVC) and County tournaments. Reed's members and supporters have been pleased and proud of the fact that this team has succeeded in reaching and winning the final of the prestigious NVC at Lord's in 2012 & 2017! On both occasions this team composed predominantly of players who had come through the Colts. Club Captain, Tom Greaves, himself a former Colt, said of Reed's latest victory "Hundreds of thousands of people dream of doing this. If you are an amateur footballer you don't get to play at Wembley, but if you are an amateur cricketer you get a chance to play at Lord's, the Home of Cricket. You enter the competition and you've got a chance. It's the best competition in the world!"
Training for Colts, (boys and girls from seven to 15 years) takes place on Sunday mornings from 22nd April to 22nd July under the guidance of fully qualified ECB registered coaches. Teams in the various age groups play League games in both Hertfordshire & Cambridgeshire. There is also a pathway into the Herts & Cambs Area & County set-ups.
Reed C.C. is also part of the ECB initiative 'All Stars' aimed at five to eight year olds. This 10-week project takes place on Sunday mornings from 13th May. Registration for this is via the ECB All Stars website at www.ecb.co.uk
Reed Cricket Club welcomes non-players and players of all ages and ability.
Even in 2018, Reed C.C. is still "Digging for Victory"!
For further information please look at the website www.reedcricketclub.co.uk or contact Cilla Robertson (Membership Sec. & Colts' Liaison Officer)
07852 299719
cilla@richardandcilla.co.uk