The Melbourn Hub has just announced its early Spring Programme which includes the usual exciting diversity of events that it has become famed for in the area. Heralding in the new season, local artist, Phyllis Dunseth, is displaying a selection of her colourful collages which are evocative of the wonderful holiday that she spent in France and Italy last Autumn.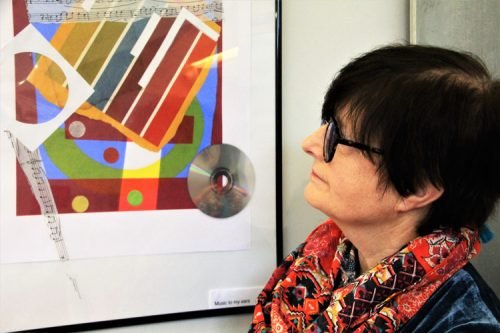 Various materials, such as notes from her diary, and a piano concert on a lake, have contributed to this unusual visual memorandum. Phyllis has been painting in various shapes and forms for around 50 years, including being trained in Stained Glass, and has enjoyed working in a variety of media. She gained her M.A. in Fine Art, and a further qualification from Central St. Martin's, London. Before retirement this inspiring artist was a teacher in Secondary and Further Education at the Wirral Metropolitan.
"I see my work as a way of life", remarked Phyllis, who will be taking part in July's Cambridge Open Studio Event in the Garden Studio at her home in Melbourn, where she has resided for the last 13 years. Her Exhibition will be at the Hub until the end of March.
If you are interested in purchasing any of her work please contact her through the e mail address: phyllisdunseth@btinternet.com. Phyllis's website will also show her other work, including paintings amd glass. www.phyllisdunseth.co.uk
The Award Winning Megson Family Folk Show
Sunday 15th March
With the early show for this award winning Folk Group's Concert now completely sold out, tickets at £6 per head for the 2.30pm performance, which is suitable for six month to seven-year -old, are also now selling fast.  Our popular Hubby Bear Goody Bags available.
MEMORY CAFE
Saturday 21st March 2.30pm-4.0pm
The Hub now offers a monthly cafe, which is organised by the  Community Support for Dementia. Families and carers, as well as those with Dementia, are all welcome to attend and take part in activities, socialise, listen to music, and share support over coffee and cake. The event is totally free.
HUB QUIZ NIGHT
Saturday 23rd April 7.30pm
Back again, the highly acclaimed challenging evening of brain teasing general knowledge questions and fun, run solely by the Hub.  Bar open. Tickets £5 each.
SALSA & SWING TASTER EVENING
Saturday 2nd May 7.30 pm
Presented by Mary DeVill, a highly qualified professional dance instructor, who will lead this exciting evening to raise funds for the Hub. Come along, join in, or just enjoy this popular dance craze.  Tickets:  £7.50 each plus bar.
For further details on all of these events, please either phone: 01763 263303, visit melbournhub.co.uk, or call in for a barista coffee and speak to one of our managers.