Tallulah Le Fey
We attended Cambridge Business awards and one of the comments left by the judges was about our fabulous recipes every month by Tallulah Le Fey.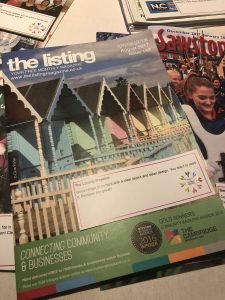 Hello my fellow foodies…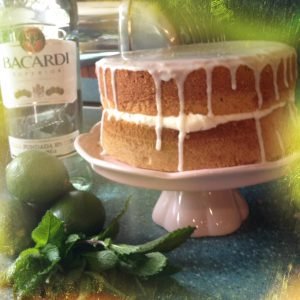 This month I would like to share with you a much requested cake at the Le Fey family gatherings. This is a large cake and will yield 12-14 slices, it's a perfect for large gatherings and by all means leave out the rum if you wish to make it more family friendly, or drizzle a little extra rum directly in to the sponge before the fillings if you wish to give the cake a more adult "kick!" I have no idea how well it keeps as I have never had any leftover, but as the filling is fresh cream I suspect a day in the fridge would be about its limit.
You will also need a 28cm round loose bottomed cake tin.
For the cake you will need
9 eggs from happy and healthy free running hens – yolks and whites separated
450g caster sugar
230ml water
160ml sunflower oil
380g plain flour
The zest of 3 limes, finely grated
For the filling you will need
400ml double cream
200g icing sugar
15 large fresh mint leaves very finely chopped
3 tbsp of white rum
1/2 jar of lime curd
For the icing you will need
250g icing sugar
Juice of 1/2 to 1 lime
Finely grated zest of 1 lime
We shall begin by making the sponges. Put the egg yolks, sugar, water and oil into a large mixing bowl and beat together until smooth. Now sift in the flour and beat in the lime zest until everything is mixed together. In a separate, and spotlessly clean mixing bowl, whisk the eggs whites to stiff peaks and then carefully fold this into the lime mixture making sure to fold in gently so as not to knock out all the air. Pour the cake batter into the cake tin and lightly tap to remove the larger air bubbles from the surface, so as to have as flat a top as possible. Pop in the oven 170° for approximately 60-75 minutes or until well risen, golden brown on top and a skewer comes out clean when inserted into the centre of the cake. Remove from the oven, turn the tin upside down and leave the cake to cool, still in the tin but now upside down, on wire cooling rack.
While the cake is cooling we can whip up the cream and the icing sugar to soft peaks, then mix in the finely chopped mint and a goodly "glug" of rum – take care not to over do the rum as you do need the cream to sit in the sponge not run into or out of it!
When the cake is completely cold slice it horizontally into two even layers and place one half onto your serving plate of choice and smother this in a thick layer of tangy lime curd. You may need to stir the curd a little first to soften it up enough to spread easily. Next pipe, spread or dollop, (whatever your preferred style,) the cream mixture on top of the lime curd. Carefully rest the top half of the cake on top of the cream, resist the temptation to firmly press the top layer in place, that will result in the cream oozing out the centre – just a gentle wiggle will suffice.
Now for the final layer, the icing. Simply beat together enough of the lime juice into the icing sugar to give you a spreadable, yet not too runny, consistency. Go at this gently adding the juice little by little. When you are happy with it spread a nice even layer of the icing over the cake, perhaps even encouraging the mixture down the sides of the cake in some areas… or not if you like a "less rustic" finish, as always dear reader the choice is yours! When you are satisified with the finish on the icing, complete the look with a final scattering of lime zest over the top.
Leave this icing layer to form a slight crust as it sets and dries or cut into greedy portions and enjoying with fine company and perhaps a glass of something long, zesty, minty, and cool… any ideas?
Until next time,
Tallulah Le Fey x
Tallulah has been sharing her recipes with us for a while now, and we thought it was about time that our readers learnt a little more about our enigmatic foodie writer!
Where do you live? A few miles outside of Royston, surrounded by fields, farms and solar panels!
Your favourite local shop? Leech's Butchers in Melbourn. Their sausages are homemade on site, the deli has a fabulous selection of delights, and oh, the cheeses! You can even get fresh fish there too… it;'s a foodie's delight!
Tell us your fantasy dinner party guest. Michael Macintyre to keep us all entertained, the head bartender from Raffles to make us all Singapore Gin Slings (I will get there one day!), David Attenborough as I could listen to him talk about animals and his adventures all evening. Heston Blumenthal would be in charge of the food and would whip up something wild and whacky for us to enjoy (did I mention all my family and friends would be there too?)
What is your favourite film? Of all time? That would have to be Moulin Rouge! The glamour, the music- Ewan McGregor… Generally any film that makes me laugh ticks my box.
What has been the most valuable life lesson learnt? In the words of Dita Von Teese, "you can be the ripest, juiciest peach in the world, and there's still going to be somebody who hates peaches." Do what makes you happy and know that karma always comes around and, if we are lucky enough, we may even see it in action!
What is your most valuable possession? My collection of family recipes, handed down through the generations – My daughter Fifi is going to need plenty of space when she becomes their guardian.
Your favourite local place to eat? The Pig and Abbot in Abington Piggots, Pat always produces good, honest platefuls of homemade food. Pie of the day is my favourite although they are a challenge to finish because they are so big! They have a nice little collection of gins too…
Most memorable Royston experience? All local people of a certain age will remember learning to swim in the Green Plunge Outdoor Swimming Pool. Any participants reluctant to get in the pool were "helped" by a certain cool dude who worked there… open shirt, hairy chest, medallion, shorts and a (very) loud voice.
Who do you admire most? My sister for her unfailing ability to see the good in people, even after dealing with some of life's finest "ratbags".
Do you have a favourite dish that you would like to see Tallulah share her recipe for? Do email us and we will pass on your request!, it may even make a future edition of The Listing
info@townhousepublishing.co.uk