100 Years: British Window & General Cleaning Company
Established after the Great War in 1918 our company gave much needed employment to exservicemen and was in those days called The British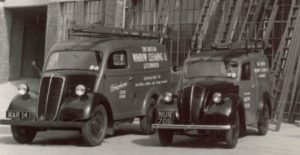 Legion Window Cleaning Company.
The founder Henry Charles Gilley himself a Boer War and 1st World War veteran who died in 1943 left a well-respected business which then provided employment to his four second generation sons who returned from the Second World War.
Imagine how Henry Gilley would comprehend social media and the emphasis on search engines to promote business today. Gilbros Ltd receives valued customers positive views for our centenary through our web page www.gilbros.co.uk and facebook.
Our high standards moved the company forward into other fields such as Health & Safety products and other aspects of general cleaning in the 1960's. We introduced the window cleaning squeegee which replaced the previously used chamois leather and latterly recognised pure water fed poles which enable windows to be cleaned safely from the ground and if required the traditional use of ladders preferred by some.
The current CEO and third generation Clive Gilley has been at the helm since 1966 and the company today is proud to be joined by a fourth generation, Edward Gilley, in 2006 with his diligence Gilbros continues to serve old and new customers with a complete cleaning package. Full risk assessments are carried out and affiliation to safecontractor, who annually audit our procedures, ensures compliance with legislation.
Celebrating 100 years is testament to our commitment to providing a professional and reliable service. The British Window & General Cleaning Company have been providing professional cleaning services (windows, carpets and offices) for commercial companies and private clients in and around Hertfordshire, Cambridgeshire and Bedfordshire for over 100 years. We spoke to Clive Gilley to find out a little about the man behind the business.
Where do you live? I have lived in Steeple Morden for the last 40 years.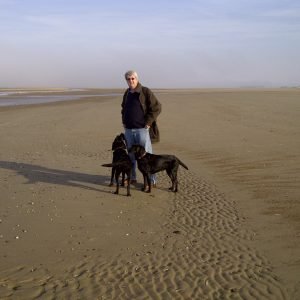 What's your favourite local place to eat and drink? For special occasions the 'Farmhouse at Redcoats' at Redcoats Green. Great food and friendly staff in a traditional farmhouse with bar and restaurant and new conference and wedding facilities with accommodation. I also enjoy lunch at the John O'Gaunt public house situated in Sutton, they serve lovely home produced food, real ale and Jane and Jago are welcoming and friendly. If it's a beer with the boys, The Rose & Crown Ashwell with Nicky and Billy.
What was the last film you watched? 'Dunkirk'. I was lucky enough to be invited to the film premiere in Leicester Square with my wife. Excellent film depicting the personal fear of our men with their backs to the sea and those that braved the English Channel mostly in pleasure crafts to bring our troops safely home. True British grit.
When did you start working for Gilbros Ltd? I started working for the family business in 1966 and enjoyed playing a major part in expanding the cleaning company formed in 1918 by my grandfather into a major distribution company of Health and Safety products, then in 1982 adding the manufacturing of safety footwear to its operations. The original cleaning company today is being run by a fourth generation of the family Edward Gilley. After 52 years seeing the company trade I get great pleasure keeping in contact with long established customers and our workforce.
If you could have a dinner with anyone, who would it be? Most certainly Winston Churchill in my opinion one of the last great Statesman this country has ever known. Although I'm not sure I would have been able to keep up with his wine consumption. My first question would be his views on Brexit.
Where do you like to take holidays? Long distance holidays were enjoyed earlier in life and now my wife and I enjoy walking the beautiful beaches and coastal paths of North Norfolk between Hunstanton and Cromer at every opportunity with our two Labrador retrievers, the huge blue skies in Norfolk are a sight to behold indeed. I also enjoy shorthaul trips around the Mediterranean when warmer weather is the issue.
What annoys you? Dodging pedestrians in Royston not looking where they're going tapping away on mobile phones.
What sport do you follow? Since becoming less active in golf and contact sports I enjoy watching it done by the professionals, Rugby Union much preferred over football, F1 Motor Racing, Golf especially The Ryder Cup and Tennis the pinnacle being Wimbledon.
British Window & General Cleaning Company
34 The Green, Steeple Morden SG8 0NB
01763 853322 / 07836 342547
info@gilbros.co.uk
www.gilbros.co.uk